Sorry for the delay in getting my article out. I had some personal issues to attend to this morning and early afternoon, coupled with a very important phone call at 2:00 EST.
Today is a special Golden Globes post. Yea, I know, you are probably sick of hearing about the who won, who lost, Jodie Foster's coming out party, and who wore what dress. But no one could ever get tired of a huge dish out of some F.U. Can they?
First, I want to ask, who cares about the red carpet nonsense? I sure don't. Why should I care what the stars are wearing? All the red carpet does is allow dress designers a chance to flaunt their talents. Well congratulations. You are great at your job. Shouldn't that be a criteria? You know, being good at your job? Awesome, now people know who you are. Those are the same middle class people who probably couldn't afford the outrageous price tags on your clothes anyway.
Now, am I going to spend time bashing the stars for wearing expensive dresses that may or may not have looked good on them? No way. That isn't my job. Nor do I care. I am not a fashion critic. I will, however, say this. Why is it important? Why do people need to find the time to bash the way a celebrity has dressed for an evening of patting each other on the backs for a job well done in their art? I mean, do people really expect these stars to arrive at a gala such as an awards ceremony dressed in a tee shirt, shorts, and sandals? I know I don't, though it would be pretty cool to see.
These artists get together during awards season and celebrate accomplishments in their industry, which happens to be an artistic industry. And yet, people find the need to bash the awards. Does your life get better if your favorite actor or actress does not win an award? Do you make money from it? No. The only one who benefits is the star. So, why do people care so much? Get over it. Everyone is a critic today. Geez.
The only issue I really had with last night's award ceremony is Jodie Foster's speech went on way too long. At one point, I felt as if she was just rambling about nothing at all. Jodie, you are a tremendous actress, I will never take that away from you. I have enjoyed many of your films. But, there had to come a point last night where someone should have told her to shut up. Jodie, congratulations on the award. Well deserved. But your speech should have been five minutes shorter.
Oh, and getting back to a subject from last week: does anyone else think last night was a paparazzi wet dream?
Ok, on to the winners. I will only discuss the ones I that I can talk about. I haven't seen all the movies that were nominated and won. I'll do my best:
Motion Picture, Drama:
Argo
Motion Picture, Comedy or Musical:
Les Misérables
Actor in Motion Picture, Drama:
Daniel Day-Lewis,
Lincoln
Actress in Motion Picture, Drama:
Jessica Chastain,
Zero Dark Thirty
Actor in Motion Picture, Comedy or Musical:
Hugh Jackman,
Les Misérables
Actress in a Motion Picture, Comedy or Musical:
Jennifer Lawrence,
Silver Linings Playbook
Supporting Actor in a Motion Picture:
Christoph Waltz,
Django Unchained
Supporting Actress in Motion Picture:
Anne Hathaway,
Les Misérables
Director, Motion Picture:
Ben Affleck,
Argo
Screenplay, Motion Picture:
Quentin Tarantino,
Django Unchained
Foreign Language Film:
Amour
(Austria)
Animated Feature Film:
Brave
Original Score, Motion Picture:
Mychael Danna,
Life of Pi
Original Song, Motion Picture:
"Skyfall,"
Skyfall
, Adele & Paul Epworth
TV Series, Drama:
Homeland
TV Series, Comedy:
Girls
TV Movie or Miniseries:
Game Change
Actor in a TV Series, Drama:
Damian Lewis,
Homeland
Actress in a TV Series, Drama:
Claire Danes,
Homeland
Actor in a TV Series, Comedy:
Don Cheadle,
House of Lies
Actress in a TV Series, Comedy:
Lena Dunham,
Girls
Actor in a Miniseries or TV Movie:
Kevin Costner,
Hatfields & McCoys
Actress in a Miniseries or TV Movie:
Julianne Moore,
Game Change
Supporting Actor in a Series, Miniseries or TV Movie:
Ed Harris,
Game Change
Supporting Actress in a Series, Miniseries or TV Movie:
Maggie Smith,
Downton Abbey
Cecil B. DeMille Award:
Jodie Foster
I'm glad Argo won Motion Picture. Argo was a great film and one I recommend everyone go see. Lincoln was good as well, but Argo was better. I haven't seen Les Miserables to date. I guess I'll be waiting until Blu Ray/DVD release. Christoph Waltz is one heck of an actor. Glad he got the recognition. I'm also a fan of Anne Hathaway, so glad she won an award as well. Ben Affleck deserved Best Director, and he should be up for an Oscar in the same category. Shame he isn't. And Quentin Tarantino, huge fan of his. Love his movies. So happy he walks away with an award and that Django Unchained was recognized.
As for TV Comedy, I am not familiar with Girls. Is it funnier and better than The Big Bang Theory? Ok, maybe I am prejudiced but Big Bang Theory is the best comedy on TV, cable TV included, unless you want to classify any Fox News programming as comedy. And Jennifer Lawrence, girl, you are a tremendous talent. Please, don't blow it. You have a great career ahead of you. I love your work, thanks to Hunger Games and X-Men: First Class. Keep it up girl!
So, who gets the Big F.U. today? Well, I have to dish it out to the critics. I have to give it to those who want to bash the stars for how they looked. I have to say F.U. to those who call the awards ceremonies an ego trip of epic proportions. Let's face it people, all industries have an awards ceremony to recognize achievement in that industry. ESPN's may be a major joke (the ESPY, really?). But, regardless, why should celebrities get dragged through hell for celebrating winners in their field? Cause they are rich and famous? Get over it. These people deserve to be recognized for being the best of their field.
So, critics (fashion critics, the couch potato critic, all critics in general) you all get the big F.U. today.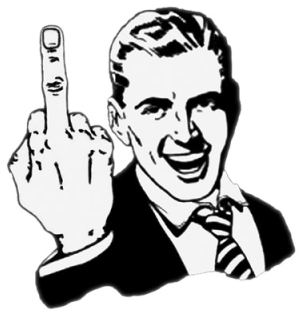 Oh and to the winners, you all get a Borat Thumbs Up: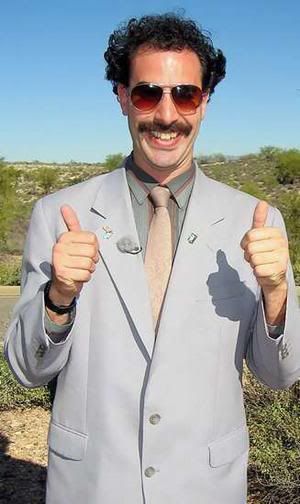 ***You can follow me on Twitter at @FuzzyUrlachter or find us on Facebook at: http://www.facebook.com/DailyDoseOfTheBigFu. Just click the links on the side of this blog.